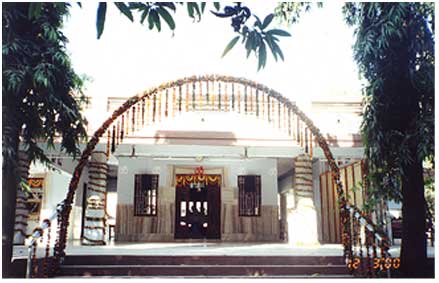 After partition in 1947, most of the devotees migrated to various parts of India, majority of them settling in Mumbai (then Bombay). Hence there was an urge to re-establish Kambar Darbar in Bombay, but was difficult to build the Darbar without transferring the Samadhis from Kambar Darbar(now in Pakistan).
The Samadhis remained at Kambar , in Pakistan,and so did Mata Chaini Bai. Bringing the Samadhis to India was not easy as Vali Vilaitrai's grandson Sain Radhakrishna who continued to stay in Pakistan did not want the Darbar Sahib to shift to India. "After unsuccessful attempts by many persons; Sainjan 'told' HIS greatgrandson Dada Kishinchand Villait to go to Kambar (Pakistan) along with 3 other specified devotees and bring a portion of the Samadhis for establishing the Darbar at Mumbai; since a lot many devotees were eagerly longing for the same. HE also told Dada Kishinchand to take the help of Hari Dilgir for opening & refixing the Samadhis. Further entire work should be done between 12 midnight and 4 am on the specified day on which the securitymen will fall asleep.
Dada Kishinchand follwed the instructions in toto and his mission proved successful. Mata Chaini Bai who did not want to leave Darbar until the Samadhis are shifted inspite of all possible threats & fears also then came to India. The devotees were greatly releaved and became extremely happy that Darbar would be soon established here, which was then done by beloved Trustee Shri Narain Vaswani in 1960.
Mata Chaini Bai who was the spritual head of Darbar after Saijan and always stayed at Darbar and she laid the foundation stone on Cheti Chand day in 1960 for establishing the Samadhis at Kandivli in Mumbai. Dear Narain Vaswani got the Darbar built with great zeal and devotion. Darbar Sahib had very limited funds at that time. He did not solicit any donations as per the principle followed by the Gurus, yet he managed very well and everyone enjoyed the Diwali celebrations at the new location. Dear Narain Vaswani passed away very soon thereafter. Then Dada Brahmanand (Trustee as well as Sai Vishindas' brother) started staying frequently at Kambar Darbar Kandivli and continued to live there until he passed away in 1980. Dadi Gopi, daughter of Dada Brahmanand who was intermitantly living at Darbar Sahib during all this period , finally assumed the spritual responsibilities of the Darbar Sahib in 1970, after Mata Chaini Bai left this world.
Dadi Gopi also passed away in 1998 after more than 25 years of selfless service to Darbar. All the devotees miss her tremendously. Subsequently in 1999, Dadi Kamla Badlani assumed the spiritual responsibilities, in which she excels. She is a living example of a Poorna Yogi....totally composed and with full peace of mind, yet with concern for everybody.
Dadi Kamla is assisted by Trustees for administration and handling current and new activities - religious and charitable (medical, educational and help to poor).
The Darbar building where  Samadhis, guru Granth Sahib and sainjan's Tasveer room stand today was designed by the well-known architect of that time Shri Ram Hingorany. He did this invaluable Shewa out of his love & devotion for the Satgurus.
The presnt Trustees are:

Sai Vilayatrai Sai Jiwatsingh Kambar Darbar Sahib Trust:
Shri Prabhu S Sainani Tel. : 2806 5337 (staying at Darbar Sahib)
Shri Shamsunder L Sidhwani
Brig (Rtd) Manohar L Bhambhani
Sai Vilayatrai Sai Jiwat singh Sai Vishindas Charitable Trust:
Shri Prabhu Sainani
Shri Shamsunder Sidhwani
Shri Ashok Dudani