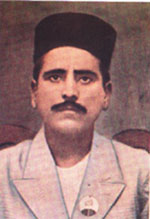 Early Life
Son of Shri Karamchand Sainani, Vishindas was born as a still baby at Kambar in 1889. When Sai Jiwatsingh was informed about this, he said the child is very much alive and is merely pretending to be lifeless, in protest against Sai Jiwatsingh's absence at the time of child's birth. As soon as Sai Jiwatsingh reached the place of delivery, the child started moving his limbs. Vishindas was King Bhartnihari in his last birth, who had renounced his kingdom and spent his life in Yoga and meditation.He had taken birth again to complete the balance Yogic work left over in his previous birth.
Young Age
Expectedly Vishin was very bright in his young age and grasped school lessons very fast, but did not have much interest in learning at school. He stayed with his sister in a distant city of Sukhar for better schooling. Once he told his sister he didn't want to study and would like to go to Kambar to his parents, for which he was scolded by his sister. Within few hours of this instance, a telegram came from his father to his sister to send Vishin immediately to Kambar as he has to take charge of Darbar, seeing which the sister was shocked, as to how Vishin knew everything in advance.
Thus at the age of 14 he was asked to take charge of Kambar Darbar, which his father was looking after as caretaker for about 4 years after Sai Jiwatsingh left for heavenly aboard. Vishindas was the second youngest of five brothers and remained a bachelor and dedicated his life totally to the sheva of Kambar Darbar. The Saint in him always prevailed and Sai Vishindas continued the learning of various Shastras (including the Granth Saheb) in great depth and also practised what he learnt.
Spiritual Domain
Sai Vishindas lived a life full of humility and kindness, compassion and love. He intensely practiced meditation. His speedy spiritual advancement bestowed on him divine powers which alongwith above virtues pulled the Darbar's devotees and satsangis towards him. Sai Vishindas continued the free dispensary started by Guru Sai Jiwatsingh, for alleviating the troubles of whoever came to him, however free/lowest medical treatment is still continuing as per the miracles. 
Miracles:
Sai Vishindas used his divine powers on numerous occasions for helping people in agony. He was very humble and always told the people that Saijans (his Gurus) were bestowing the Grace and not he himself.
Formation of Trust:
Sai Vishindas had the vision to foresee the problems expected during partition and the expected migration of Hindus to India. Hence, he decided not to live any longer and created a Trust for managing the affairs of Kambar Darbar. He entered Maha-Samadhi in 1942, at the age of 53. The Board of Trustees have constructed Kambar Darbar at Kandivli (Mumbai) and are managing the affairs in consultation now with Dadi Kamla (earlier Mata Chaini Bai and Gopi Dadi).