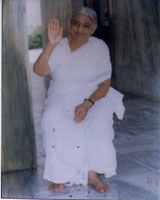 Early Life
Born in 1921 at Larkana in Pakistan, Dadi Gopi was the eldest daughter of Shri Brahmanand Sainani, brother of Sain Vishindas. He was also one of the first four Trustees chosen by Sain Vishindas. Dadi Gopi was very much attached to her uncle and Guru Sain Vishindas from her young age and spent considerable time with him. She received continuous spiritual and moral guidance from him. Sain Vishindas advised his brother Brahmanand not to get Gopi married and also she should not study beyond matric, which initially disturbed Dadi Gopi as she was a bright student and wanted to become a doctor.But Sainjan's words meant a lot to her and she knew that she had to follow his words , which she did. Dadi Gopi had intermittantly been living at Kambar Darbar, Kandivli when her father Dada Brahmanand Sainani was living there. She got her `Naam' from Adi Ganga after she started living at Darbar `full time' . She continued the sacred system of giving `Naam' or `Upadesh' to select few satsangis. Along with Dadiji Bhabhi Kalp Sainani has also been bestowed with the blessings to give `Naam'. Dadiji started continuously living at the Darbar Sahib from 1963. She learnt from Mata Chaini Bai the customs and traditions of the Gurus and the way to do Shewa of the devotees. Dadi Gopi's life has been a life of total devotion to Gurus and dedication to Satsang.
Missions in Life
Dadi Gopi started the Sunday morning Satsang at Kambar Darbar Sahib at Kandivili. Gradually satsangis started coming regularly and it became a ritual with one and all. The best thing that happened was that the younger generation also started coming regularly. Dadiji through her advice , guidance and `Parvachans' brought the 'Sangat' on path of `parmarath' . Darbar devotees sing Sain Jiwat singh's bhajans , Kafi's and other devotional songs. Every one derives benefit from the life , teachings and preachings of Sainjans . Sunday morning congregations have not been the only thing. Every evening locals from Kadivili gather at the Darbar Sahib and Dadiji started evening `Katha' for them . thus the age old tradition and custom of evening `Katha' and `Arti' are continuing.
Gopi Dadi used to travel frequently to other cities to propogate Sajjans teachings and value, and also guide people on the spiritual path through satsangs. A number of devotees came closer to darbar through this and visited Kandivali more often and in greater numbers.
Many a devotees have come to the Darbar Sahib , discussed their problems with Dadiji, and got their solutions . Such has been her influence that Devotees have been requesting her to come to their towns , cities and homes and bless them. Dadiji has been showering blessings of the Guru's on the devotees and the benefits are apparent and visible . Sainjans have been blessing the devotees through the hands of Dadiji .There are many a stories of Dadiji helping devotees in need . Such has been her influence on the devotees that for marraiges , buying of houses , starting of new business ventures , and even naming ceremonies of children , devotees have been seeking Dadiji's benevolence.
Annual Diwali Mela is the rallying point of entire 'Sangat'. Devotees come from far and wide , from within the country and also from foreign countries . Darbar has regular visitors from USA , Canada,Spain,Dubai etc. At Darbar Sahib every one eagerly used to await Dadiji doing 'ARDAS' and invoking the names of Gurus to seek their blessings for the entire 'Sangat' who were present and also those who could not come physically for the Mela , but were mentally at the Darbar Sahib. Thus she continued the good work and traditions and customs started by the Gurus and gave them a great fillip.
It was during the preparations of Diwali Mela of the year 1998 , that Dadiji mentioned, casually to the common people but some of us caught the meaning and import of her words, that NOW I CAN RETIRE. Within less than a week of Diwali Mela Dadi Gopi chose to release her 'ATMA' from her mortal being and went unto the Gurujis on 25th Oct 1998 . This was end of an era, but with the blessings of Sainjans , the activities of Darbar Sahib continue as ever before.